Mark Tyburski – President/Owner
Mark is an experienced real estate valuation professional and industry leader with a proven track record of success. He has exceptional valuation, due diligence and analytical skills. He has extensive industry and market knowledge over several real estate cycles.  He has an excellent reputation in industry for high standards.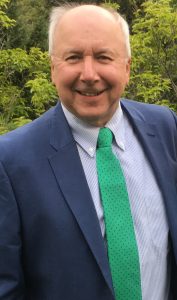 Specifically, Mark has over 35 years of appraisal and consulting experience Involving office, retail , Industrial, R & D, apartment, land and special purpose properties.
He has achieved the prestigious MAI and SRA appraisal designations.
He is Past President and Director of the Massachusetts Chapter of the Appraisal Institute.
He has 12 year's experience as a bank Chief Appraiser and over 20 years experience as small business owner.
He has knowledge of all New England markets over several real estate cycles involving investment and non-investment grade real estate.
He has expertise providing appraisals for lending, tax planning, partial interest, conservation, condemnation, ad valorem tax and appeal, litigation and general consultation purposes.
He has provided these services for lenders, attorneys, developers, corporations governmental agencies, local municipalities, non-profits  and private entities.
He has qualified as an expert witness in numerous courts.
He has served as an elected member of the Board of Assessors for the Town of Hingham for 18 years.
He has written articles that were published in trade publications such as Banker and Tradesman, New England Real Estate Journal and America Banker and has appeared on the award winning, nationally syndicated "This Old House" television show.
He owns investment real estate in the student housing market.
Previous Experience
1985- 1995 – The Appraisal Corporation – Quincy, MA
President/Owner
Established full service appraisal subsidiary for Boston Five Cents Savings Bank, a $3 billion dollar bank.
Responsible for internal reporting, budgeting, staffing, training, operations and sales.
Grew company to $3 million in revenues.
Managed seven offices and over 50 appraisers located throughout New England.
Negotiated 100% ownership of entity from Boston Five/Citizens Bank.
Reacted to changing industry and re-structured company to 100% at-home appraiser use and 100% electronic delivery of appraisal report.
Negotiated sale of residential appraisal business to a national loan service firm which included assisting them as a SVP in integrating this business into a "one-stop" shopping platform for loan documentation services.
1983-1995 – Boston Five Cents Savings Bank – Boston, MA
Vice President & Chief Appraiser
Responsible for developing and maintaining FIRREA and USPAP compliant appraisal policy that included writing the Bank's appraisal policy, developing appraisal report requirements/guidelines, creating an "approved appraiser" panel, presenting it to senior management and training lending and credit personnel in its execution.
Performed quality control on all appraisals that included insuring that all appraisals were formally reviewed and documented in loan file.
Performed commercial appraisals on all complex assignments.
Managed eight-person commercial appraisal department serving Eastern Massachusetts.
Hired and trained commercial appraisers, three of who went on to become bank Chief Appraisers.
Attended meetings, offered valuation insight on proposed deals and prepared regular market studies on industry trends as a member of Investment Loan Committee.
Performed senior asset management functions for non-performing loans that included preparing quarterly evaluations for non-performing loans, stress testing "watch list" loans and meeting with regulators.
Provided in-house appraisal training to Commercial Lending and Credit Groups.
Education
1974-1978 – Assumption College – Worcester, MA
BA Degree in Economics